Forms Products
Working with our customers has led to some useful ' forms products'. They can be delivered to a fixed price and timescale. Designed to give smaller organisations entry into process automation and BCM processes that normally can only be enjoyed by companies investing in expensive applications or bespoke solutions. Forms can be designed, and trialled with distribution and collation of data received.
Products based upon Adobe® LiveCycle® Dynamic Forms (PDF)
Our forms are based upon Adobe® LiveCycle® dynamic (PDF) forms and combined with our own design/BCM intellectual property.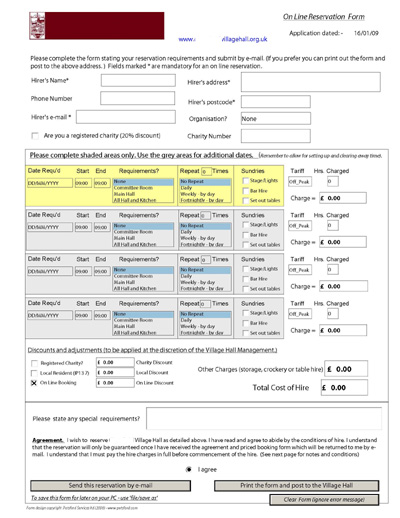 This results in user friendly and easily delivered forms that can capture user data accurately. Adobe® forms present a robust platform for user friendly information capture with good control over information quality. They are very flexible for the form owner as they can be delivered to end users by e-mail or web download and the data created is returned in XML format by either HTTP 'post' or client side e-mail. This allows form owners to trial processes with end users and prototype data capture without 'up front' investment in dynamic web sites and databases. The forms can then be evolved and migrated to full back end systems if needed. Besides supporting attractive form designs, layouts and barcodes, they can include text, date and numeric data capture with embedded field checking, external data file sources and field calculations using Adobe®'s own 'FormCalc' or Javascript embedded within the forms. It is also possible to summarise responses from users into a spreadsheet for analysis. (Note that some implementations require the form owner to have client side licensed versions of Adobe® Acrobat® Professional 7 (or later) but end users are able to use Adobe® Reader®.)
Forms can be based upon existing PDF and word documents. PSL can then convert aspects of the document into dynamic fields. This allows existing forms already in use for manual processes to be migrated to a web based or other automated system with minimal user 'shock'. This allows for reduced user training and improved results.
Forms can also be secured against unauthorised opening, and modification. Form contents can also be digitally signed for fully attributable data entry and authorisation.
Some examples of the PSL Bespoke Adobe® Forms: -
BCM questionnaires including dynamic calculations and data checking, e.g. : -

BCM Health Check
Business Impact Analysis (RTO calculations included)
Disaster recovery and exercise surveys

Resource booking with embedded costing for: -

Village halls etc
Sports courts
Equipment reservation and hire
Annual leave application/granting etc

Other non specific internal office processes such as : -

Expenses Claim forms
Application forms
Leave forms

Project Management processes : -

Project proposals
Project approvals
Highlight reporting
Milestone reporting
Exception reporting
If you are interested in seeing some examples of forms and obtaining a quotation for a specific requirement please use the contact form.